A Tsunami of Tears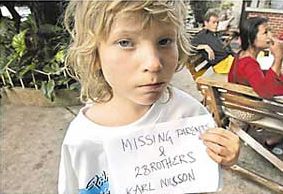 Mamma Pappa where are you!
Our house and pets I no longer see
Crying everyday I think of you
Missing sister I could hardly be
Many a children, around me I see
Everywhere around, dirt and debris
Weeping and Sobbing, Searching and Lost
Many Brothers and sisters alike a lot
Strangers Strangers everywhere
People running and shouting here and there
I am afraid & lost amidst this somewhere
still not able to understand or be aware
Mamma! Mamma!
promise you will come soon
as am drowing myself in tears of dune